The Waratah flood post...
With Mark O'Neill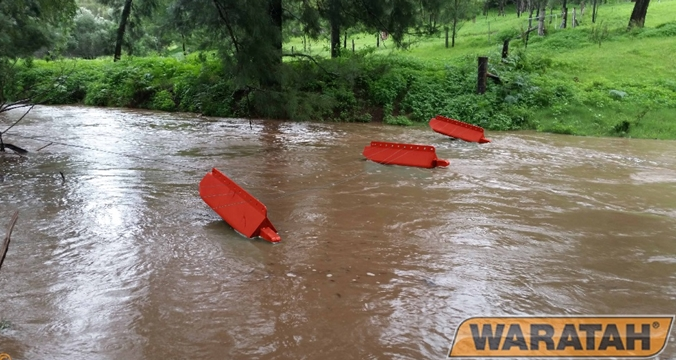 Are your fences being washed away or damaged by water debris when it rains?
Australia is a land of extreme weather events and particularly dry conditions, however in the case of wet weather – when it rains, it pours! As much as we love a bit of rain, farmers are often left with significant damage and costly repair bills following a large amount of rain.
Traditional fencing is a great property and livestock barrier, however it doesn't allow for any movement or self-protection when there is serious rain. Enter the Waratah flood post…
The Waratah flood post is an innovative and unique solution designed to protect fences and livestock in flood prone areas during wet weather events. This unique floating fence system may be used in creek crossings, causeways, river beds, tidal waters and flood plains, and usually requires little ongoing maintenance.
Features & Benefits:
Buoyant fence posts – When water levels rise, the flood post is designed to rise with the water rather than collecting debris like traditional fencing.
Low maintenance – Water pressure on traditional fences can result in the fence breaking away, requiring expensive repairs.
Durable – Made from strong durable polyethylene which doesn't rust and is UV/fade resistant.
Insulated – May be used for electric fence applications.
Unique design – With 11 stainless steel eyelets and slots for horse and electric fence tape.
Foot step – For easy installation.
Weighted ballast – Fill with water using removable bung to set ballast at desired water level.
Measurements & Specifications;
Length

(top to ground)

Length

(total unit)

Width
Height

Gross Weight

(without ballast)

1280mm
1630mm
320mm
375mm
8.75kg
If you would like further information about the Waratah flood post or if you would like to discuss pricing, please do not hesitate to contact myself via moneill@dalbyruralsupplies.com.au or chat with one of our Merchandise team by phoning (07) 46600400 or visiting us in store.
Alternatively check out the full Waratah flood post product brochure.